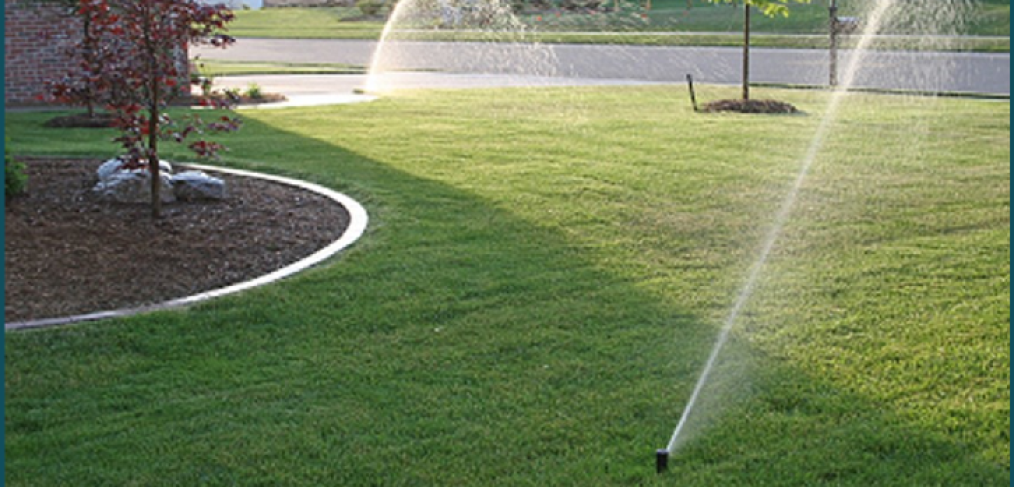 February 15, 2022
by admin
4 Ways to Shape Up Your Landscape For Spring
Warmer temperatures will soon be around the corner. Ensuring your yard is at its finest will maximize your enjoyment of the outdoors. Early preparations to get your lawn, shrubs, trees, and flower beds cleaned up and fertilized is vital for the growing season ahead. After months in the deep cold, maintenance on your irrigation systems is a must. Now is also the time to start considering both landscape and hardscape improvements. If you are thinking of expanding or adding new plants or elements like patio pavers, sprinkler systems, or water features, we can help you build the spring escape you have been longing to enjoy all winter.
Here are our top 4 recommendations to enhance your landscape this spring:
Yard Maintenance
Even if you are pleased with your current landscape, regular seasonal lawn care and maintenance of shrubs, beds, and trees can transform your yard. It will also save you time, energy, and money in the long run. Proper care will extend the life and beauty of your perennial plants; keep your grass lush and vibrant; and prevent weeds from overtaking lawn and flower gardens. An essential spring maintenance checklist includes:
Raking old leaves and removing debris from plant beds and lawn
Trimming overgrown grasses along pathways and beds for clean-looking edges
Pruning trees and shrubs and checking them for damage or broken branches
Determining fertilization needs for lawn, trees, and plant beds
Applying pre-emergent weed control solutions
Adding fresh mulch to beds is not only aesthetically pleasing but helps with moisture and insulation
Inspecting irrigation and sprinkler systems for damage and repairing as necessary
Irrigation & sprinkler installation
Many property owners love the look and feel of a well-manicured lawn but also have experienced the investment it takes to keep a yard looking pristine. Dealing with over or under watering; sprinkler timers that go off in the rain; and dragging watering systems around your yard can be time-consuming, wasteful, and frustrating.
If you are looking for an innovative solution, an underground electronic irrigation system can allow you to spend more time enjoying your lawn and less time maintaining it. We install irrigation systems for both our commercial and residential customers using Hunter Irrigation products which are premium quality, highly
water efficient, extremely durable, and easy to maintain. Your irrigation system can be programmed to control several different zones and the right products installed to both smaller and extensively large areas. Best of all, our controllers are now all equipped with wifi; you can control your sprinkler system from the comfort of your cottage or from a destination on the other side of the world.
We are qualified professionals who can expertly design, install and maintain your system. Our irrigation systems are also specially designed to be water efficient and include wireless weather sensors which will shut off the system when mother nature is doing the work for you.
Patios and Pathways
Stone patios and pathways are an art form and require specialized planning and design to avoid shifting and drainage concerns. When stone patios and paths are done correctly, they can create a spectacular, cohesive look to your landscape. There are abundant design options due to the wide variety of stone materials and colours available. We exclusively use Barkman products as the pigmentation and quality can stand up to any harsh Canadian Prairie weather or heavy use in both private and commercial settings.
At Viking Landscaping, we understand the technical expertise required to create a lasting stone hardscape from the detail of preparing a pre-compacted screeded laying course to power compacting and sanding.
Whether you are looking for a roman circle gathering spot for your favorite anorak chair; a flagstone firepit; a winding garden pathway; or a combination, we can make sure the work is done beautifully and built to last. We also specialize in custom decks so you can make the most of every space and enjoy every moment out of doors.
Bubble Rock Fountains & Water Features
If you are dreaming of an oasis escape, you only need to step outside your door and experience one of our professionally installed water features. Water elements can enhance your landscape dramatically and certain types of water features can also create a cool break from the heat for children and animals.
Bubble Rocks
Bubble rock fountains are becoming more and more popular as they are a tranquil and simple way to add a touch of nature to any landscape. We can transform any large rock or boulder into a custom bubble rock fountain to enjoy. This feature can be artfully added to both small and large areas.
Ponds
When a pond is designed and installed properly, they create surprisingly self-sustaining and environmentally-friendly ecosystems. Bring nature to your backyard by creating a sanctuary for beautiful insects, birds and frogs, and fish while saving money on lawn care. Water from the pond is also handy to use on indoor plants and outdoor gardens. Ponds once they are initially filled do not require significant top-up; rain or a well-designed rooftop run off can also support low water usage.
Waterfalls
Waterfalls are also an excellent additional feature to incorporate into your pond. Or, if you are looking for a single waterfall element, pondless waterfalls are a breeze to maintain and are perfect for anyone wanting a little extra splash of something special in their yard that requires minimum attention.
Whether you are looking for a single water feature or a combination of several features, our team has the experience and skill to create any custom oasis. At Viking Landscaping there is no water feature project too large or small for us to design and install to your satisfaction.
Full Premium Landscaping Services
Viking Landscaping offers a full range of year-round and seasonal service options. If you are looking for maintenance services like weekly cutting and fertilization or want a custom-built landscape feature, there is no project or service we can't deliver.
We take pride in our reputation and have been trusted by homeowners, commercial properties, and municipalities across Winnipeg, Calgary, and Regina for our quality of service and client satisfaction. Our company is built on long-term relationships, the highest quality products, and professional expertise. Contact us for a quote for all your landscape needs or view our gallery to envision what is possible for your next project.