September 2, 2020
by admin
7 tips to create your dream patio
Backyard patios have increased in popularity over the years and have expanded in functionality. The type of patio you have will determine how often it is used and how well it serves its purpose. If you are considering a backyard patio here are some things to consider whether you are working with a designer or designing, it yourself.
Functionality
The functionality of your backyard patio is an extremely important factor. Most people want too to use their patio as a place to dine, relax, and garden. When planning the design for your patio it is important to envision how you want to best utilize your patio. There are a lot of questions you should be asking yourself in the design process like how often do you see yourself using your patio and what type of aesthetics do you want? Do you want a large patio that you can use for large gatherings or a smaller more intimate setting? Consider what other features you would like to include like a gazebo, grill, or firepit.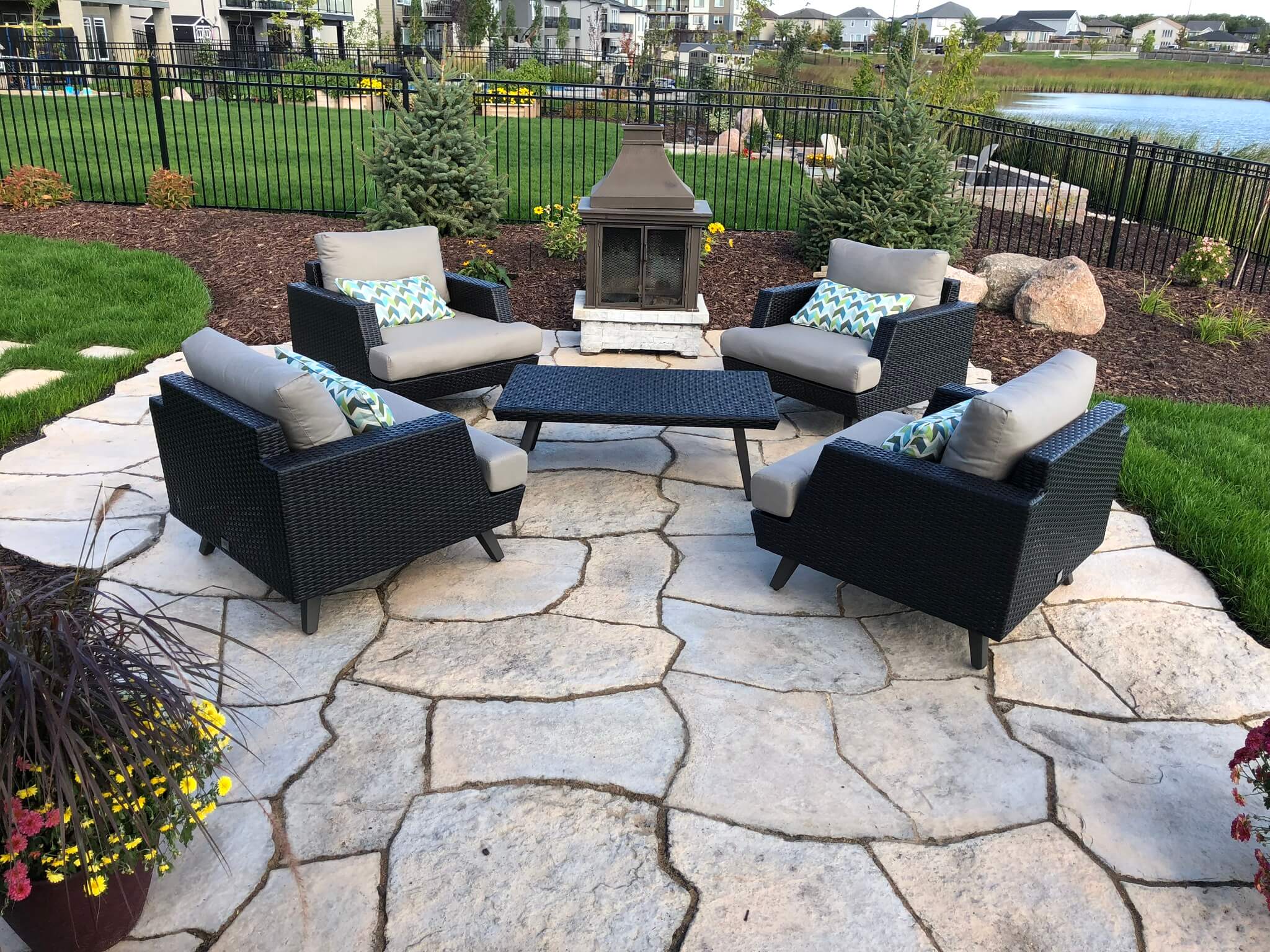 Location
Another important decision you will have to make is where you want your patio located in your backyard. Do you want it close or further away from your home? Is having a more intimate space important to you or do you like the idea of a more open concept? Place some chairs where you envision your patio to be. How does it feel to be there, and do you find it to be an enjoyable spot? Another thing to consider is that you might have a better view in some spots of your backyard. Carefully consider where you want your patio located and how you want it to function.
Dining & cooking
Patios are a great place to cook and enjoy dining outdoors. You may consider placing your patio close to your kitchen for easier access to bringing items outside. Consider placing your grill away from your home as you do not want to have any smoke enter. You may also want to include an outside kitchen island. This is perfect to prepare and serve food but can also be used as a place to sit and eat with bar stools.
Outdoor rooms
If you have the space for a larger patio, consider dividing it in individual spaces. You could have a separate area for cooking and preparing food, a dining area, and a fire pit. Having separate outdoor rooms from the main patio area can create a unique space and conversational area. Consider selecting your furniture before sizing the area to ensure you get what you want.
Fire pits
A popular feature of any backyard patio is a fire pit. They are a great place for family and friends to gather in the evenings. Having a fire pit can also make your patio the place where your friends will want to get together and relax. Ideally, you will want to have a wood-burning fire pit over gas for ambiance but gas burning fire pits are easier to use.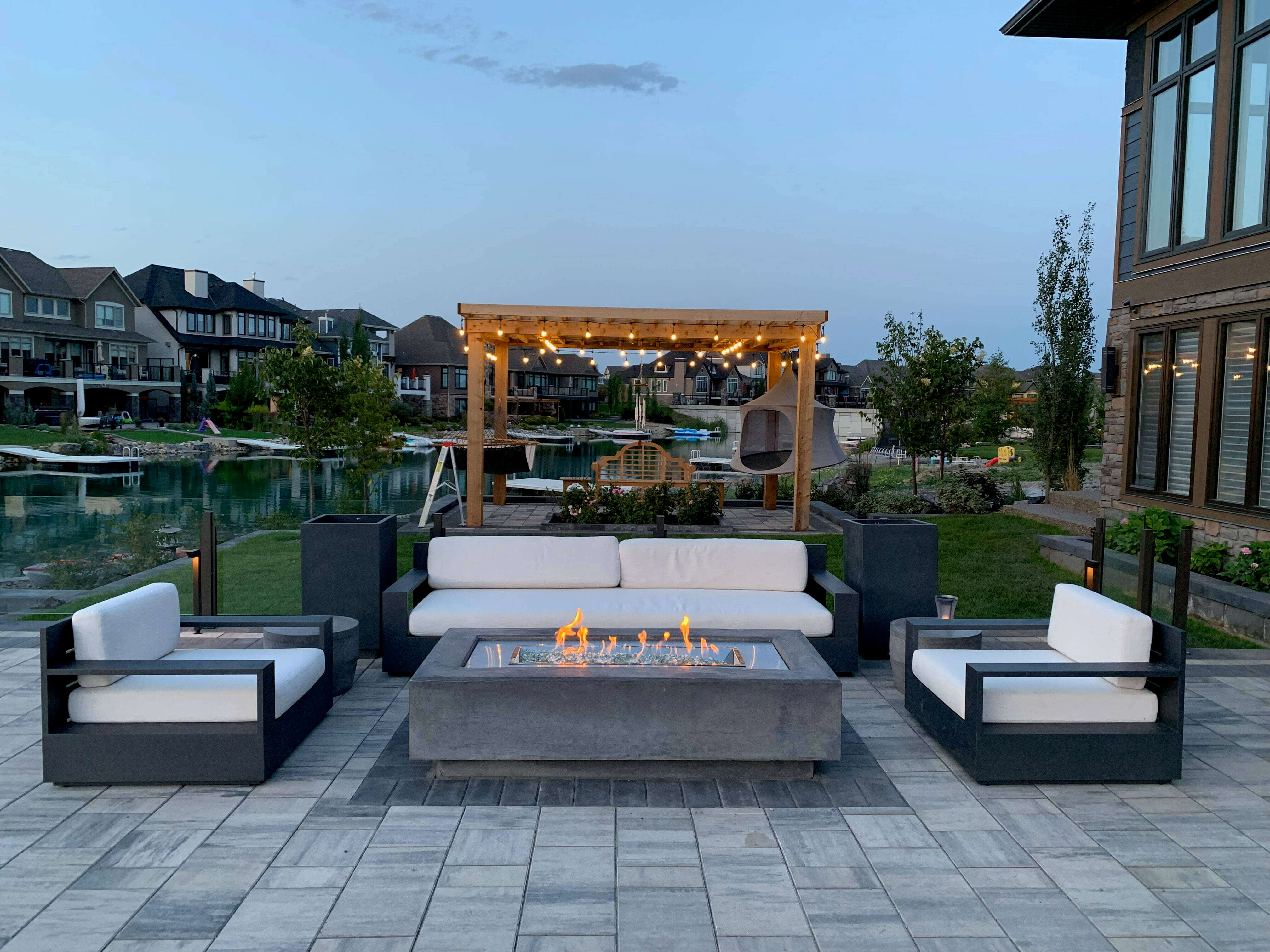 Views
If some areas of your backyard have better views than others you want to take advantage of this. Having a great view can change the feel of your backyard patio. There are other ways to create a great view or visual interest by adding aesthetically pleasing focal points like sculptures or a birdbath in the distance.
Light and shade
Do you want to enjoy the sun when using your patio or sit in the shade? Maybe you would like the option to enjoy both? Consider planting trees, using a shade umbrella, or pergola to give you more options for your patio.
At Viking Landscaping Inc., we can make any feature you want in a backyard patio into a reality. Regardless if you are looking for a larger patio or something small our team always delivers and provides exceptional service. We make sure to leave our customers satisfied with our work and have been in the landscaping business since 2005. Contact us today for a variety of landscaping services.